Medical Lasers and Light Treatment (Sciton JOULE™ laser system)
At NEHS we use the Sciton JOULE™ laser system. It is the perfect example of a breakthrough that has made it possible for patients to achieve superior skin rejuvenation with minimal investment of time, money or energy. This remarkable device combines an extensive range of procedures.
Sciton's light system (Broad Band Light – BBL) is one of the most technologically advanced systems in existence today. A recent Stanford University study published in the prestigious Journal of Investigative Dermatology, showed for the first time that the BBL was able to restore gene expression of aged human skin to resemble much younger skin. Find out more information on this breakthrough.
At NEHS, we also use Sciton's Clear scan Nd-YAG medical laser arm which is the gold standard laser for hair removal and treatment of vascular lesions in all skin types today.
NEHS offers the following laser/light treatments:
Acne
Hair removal
Pigmentation
Photo-rejuvenation/Phototherapy Video
Vascular lesions
Facial veins
Leg veins.
Phototherapy Video (from our supplier)

Vascular Treatment Video (from our supplier)

Call us now to make an appointment on (08) 8336 9073, or complete your enquiry online.
Anti-Wrinkle Injections
At NEHS anti-wrinkle injections are provided by Dermatologists and highly trained supervised registered nurses. Due to restrictions from the TGA, the actual name of the anti-wrinkle injection cannot be used here.
Anti-wrinkle injections, are composed of a natural, purified protein which affect the tiny nerve impulses to the muscles treated.
With repeated muscle activity in the face, gradual development of fixed or permanent lines occur with age. Anti-wrinkle injections help to relax these muscles and can prevent or delay the formation of these lines when done at an early stage. This produces a younger softer appearance that looks natural.
Anti-wrinkle injections are most commonly used on frowns, crows feet and forehead lines. They can also be used to reduce 'bunny lines' over the nose and dimpling of the chin. They are also effective in reducing bruxism (teeth grinding) and can reduce the subsequent enlarged muscle of the jaw (masseter) as a result of this activity which results in the slimming down of the jawline.
Treatment works after 7-14 days and in general lasts anywhere from 3-4 months.
These treatments are safe and effective and are generally regarded as first line to reduce wrinkles in the top half of the face
Often fillers and laser treatments may be combined with anti-wrinkle injections to give the best overall effect though this may not all be done at the same appointment.
Call us now to make an anti-wrinkle injection appointment on (08) 8336 9073, or complete your enquiry online.
Before and After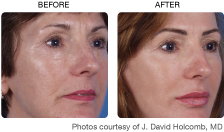 Dermal Filler Treatments
Dermal Fillers are used to fill out lines and softly restore the fullness of the lips, cheeks and other areas on the face such as tear troughs (under the eyes). Dermal Fillers create facial volume and definition as well as correct and restore facial contours that may have weakened over time.
Dermal fillers are based on Hyaluronic acid which is a substance that naturally exists in your body. Hyaluronic acid is a sugar molecule that exists naturally in almost all living organisms. It binds water and can act as a lubricant and shock absorber in movable parts of the body such as joints. It is also important for the transport of nutrients and in regulating water balance in skin. These fillers work by boosting the skin's supply of hyaluronic acid.
Dermal fillers are a soft injectable gel consisting of stabilized, non-animal hyaluronic acid. The gel is tissue-friendly and closely resembles the hyaluronic acid that exists naturally in the body. It is long-lasting but not permanent. These fillers are injected into the skin where they effectively reduce the appearance of unwanted wrinkles, contour and create volume, and to rejuvenate the skin.
The result of a single treatment can be seen instantly and can last for around 6 to 9 months. Dermal filler injections can give a natural looking result that does not affect facial expression. As your face changes over time, dermal fillers allow you to control your looks subtly as you age.
The most common areas treated are:
Nose to mouth lines (the nasolabial folds)
Between the eyebrows (the glabella lines)
Lips (adding volume and shape).
Call us now to make an appointment on (08) 8336 9073, or complete your enquiry online.
Sclerotherapy
What is Sclerotherapy?
Unwanted leg veins (spider veins), known medically as "telangiectasias" or superficial varicosities are dilated skin capillaries. These may become unsightly with time and may also lead to dull aching of the legs after prolonged standing.
Sclerotherapy is the technique of injecting a solution into these vessels (tiny capillaries or larger varicose veins) with a small needle. The solution irritates and destroys the inner lining of the blood vessel so it ceases to carry blood. The body then replaces this damaged vessel with scar tissue. Several injections may be needed for a specific area of telangiectasias. Fading of the vessels is a slow process which may take up to 6 – 12 months. The goal is to produce a 75% to 90% improvement in both appearance and symptoms.
Call us now to make an appointment on (08) 8336 9073, or complete your enquiry online.
Please note: Medicare rebates may be available for some of our Cosmetic Dermatology services but require a referral from your General Practitioner prior to consultation.